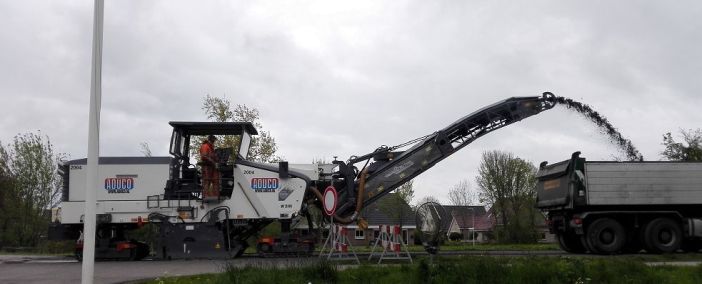 April 24, 2017
Successfull first deployment of the Road Profiler by Aduco
Aduco mills first its first project with the Road Profiler for Schagen Infra. The use of the Road Profiler proceeded to full satisfaction.
In addition to the well-known advantages of the Road Profiler, such as the high accuracy and the ability to read the milling depth any time, the Aduco milling machine operators experience another great advantage through the use of the Road Profiler: the enormous workload reduction. The 2.20 meter milling machines from Aduco are operated by one operator. This operator has many responsibilities: he has to read the milling depths, operate the milling machine, keep an eye on the milling quality, coordinate loading and pay attention to safety. Reading milling numbers from the asphalt is not always easy. Sometimes it is not clearly written, sometimes they are on one side so that the milling machine operator has to walk from left to right, sometimes the asphalt glitters through the rain, et cetera.With the Road Profiler, the task of reading the milling numbers is very easy. This significantly reduces the load on the operator. So the milling machine operators greatly appreciate the Road Profiler!
See also the website of Aduco.
December 19, 2019
December 12, 2019
November 5, 2019
October 3, 2019
September 20, 2019
Bronland 12-Z
6708 WH  Wageningen (NL)
T: +31 (0)85 482 4810 (office)
T: +31 (0)85 482 4811 (support)
T: +31 (0)85 482 4812 (sales)
WORKSHOP / DELIVERY OF GOODS
Radix Klima, building 109
Bornsesteeg 48 Wageningen
(navigation use: Bornsesteeg 50)